You may be wondering why teas named after their origin or teas that are unique to their origin are not protected by law. Such protection exists for France's Champagne and Italy's Parmigiano-Reggiano, but do origin-specific teas get the same protection? Counterfeit tea is a huge plague to the industry, in fact, there is much more Darjeeling tea on the market each year than is actually produced. Some protection for tea does exist, but the means for protection must be set up by an association or certifying body and once it is set up, it is difficult if not impossible to enforce.
The mechanism for protecting origin-specific goods is called as a geographical indications or appellation. Geographical indications are defined by the World Trade Organization's TRIPS agreement to be:
"indications which identify a good as originating in the territory of a [World Trade Organization] Member, or a region or locality in that territory, where a given quality, reputation or other characteristic of the good is essentially attributable to its geographical origin (TRIPS Article 22(1))."
Because geographical indications "stand at the intersection of three hotly debated issues in international law: international trade, intellectual property, and agricultural policy" they are difficult to create, maintain, and uphold. The means for protecting geographical indications differ for every country "ranging from specific geographical indications laws to trademark law, consumer protection law, and common law." In the United States, geographical indications are registered through the existing trademark structure.
So what are these indications and how are they set up? In order to set up a geographical indication, an association or certifying body must write up a set of standards. Once the product is defined by a set of standards, the body must "devise a mechanism to effectively attribute the right to use the indication to a producer" then "establish traceability, verification and control schemes" to enforce the standards. The indication must also be marketed and legally protected in each country in which it is registered.
As previously stated, geographical indications are registered in the United States through the trademark system. Organizations such as tea boards and tea associations wishing to protect the products of those they represent will typically create a logo and protect the use of that logo in their own country, license its use out to producers of the product, then register for a trademark with the United States Patent and Trademark Office and then hire someone to protect and enforce its usage in the United States. Lets take a look at some of the geographical indications that exist today surrounding tea, keep in mind, however that not all producers opt to use these protections. And not all of the indications are protected abroad, many are just protected at origin, meaning the logo mark, or name is regulated at origin and is only allowed to be "stamped" onto products that meet certain criteria before being exported. Making this even more difficult for tea, consider that teas are often repackaged by importing wholesalers or retailers and if there was a logo mark on the product when it was exported, it doesn't always end up on the consumer-facing product. Fun right?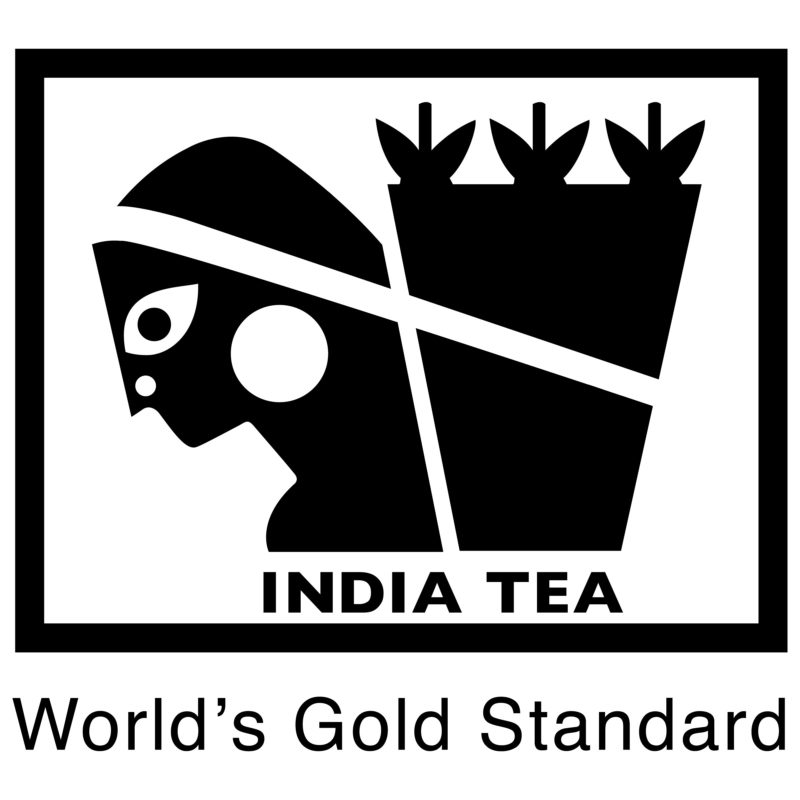 India
Aside from the India Tea logo seen above for tea packed in India, the India Tea Board maintains an appellation system to protect most tea names and origins. There are logos for each of the protected tea regions: Darjeeling, Assam Orthodox, Assam CTC, Dooars CTC, Dooars Terai, Nilgiri Orthodox, Nilgiri CTC and Kangra tea. Anyone using one of the logo must be registered with the Tea Board of India and submit their purchase and sale information yearly. The system is not foolproof, but it is a step in the right direction to protect their tea names.
The India Tea Board has held a United States trademark for Darjeeling tea since 1988 (73737696). It's most recent wording states:
"The certification mark, as used by persons authorized by certifier, certifies that a blend of tea contains at least one hundred percent (100%) tea originating in the Darjeeling region of India, and that the blend meets other specifications established by the certifier."
The trademark for Darjeeling is registered in 30 countries at the time of this writing.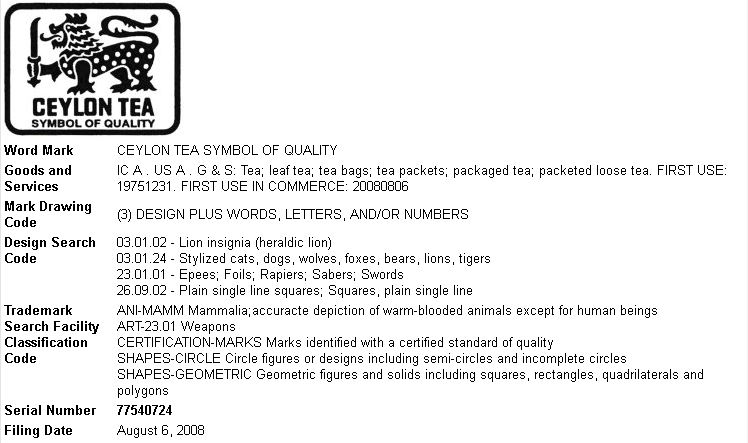 Sri Lanka
The Sri Lanka tea board holds United States trademarks for Ceylon Tea (85613882), Ozone Friendly Pure Ceylon Tea (85590777), and Ceylon Tea Symbol Of Quality (77540724). The tea board also holds trademarks for the following growing regions: Sabaragamuwa (85613933), Nuwara-Eliya (85613888), Dimbula (85613927), Ruhuna (85613925), Uva (85613920), Uda Pussellawa (85613912), and Kandy (85613910).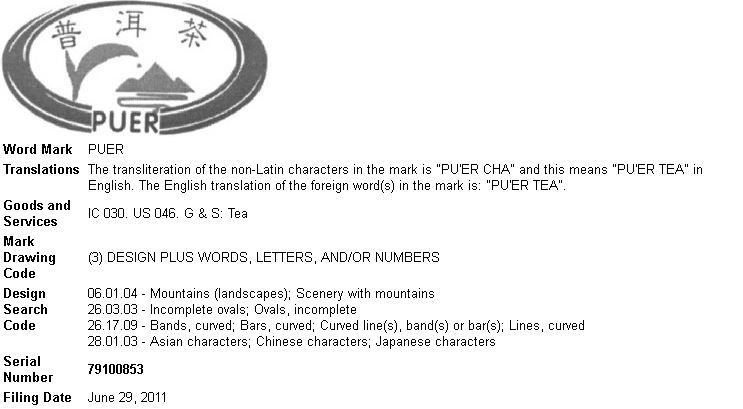 China
The Yunnan Province Pu'er Tea Association holds a United States trademark for Puer (79100853) stating:
"The certification mark, as intended to be used by persons authorized by the certifier, is intended to certify that the goods provided have met the following criteria of origin, quality, and processing methods: Pu'er tea (raw tea) is to be made from fresh leaves from Yunnan big leaf tea trees growing in conditions suitable for Pu'er. It is compressed tea made by the deactivation of enzymes, twisting, drying by sunshine, and shaping by steaming, compressing and other processes. The characteristics are: dark green color, fresh and long-lasting fragrance, sweet and dense taste, green-yellow, bright liquor, and green–yellow, thick leaves. Pu'er tea (cooked tea) is made of dried green tea leaves from Yunnan big leaf tea trees growing in conditions suitable for Pu'er. Its loose tea and compressed tea are made by special process and post-fermentation (fast or slow post-fermentation). The characteristics are: red-brown color, dense, bright red liquor color, a special fragrance, sweet and dense taste, and red-brown leaves."
The Zhejiang Agriculture Department holds a United States trademark for LongJing (79083427) that limits the use of Long Jing to teas produced in the following counties:
Hangzhou City West Lake District (West Lake Scenic Area), Xiaoshan District, Binjiang District, Yuhang District, Fuyang City, Linan City, Tonglu County Jiande City, Chunan County, Shaoxing County, Xinchang County, Shengzhou City, Zhuji City, Shangyu City, Yuecheng District, Panan County, Dongyang City and Tiantai County.
In addition to the trademarks held in the United States, in China, there are Guobiao standards for many famous teas. Guobiao numbers can be found on most tea packaging that has originated in China and appear as numbers prefixed by "GB" if the standards are mandatory or "GB/T" if the standards are recommended (The 'T' refers to the Chinese 推荐 tuījiàn or "recommended").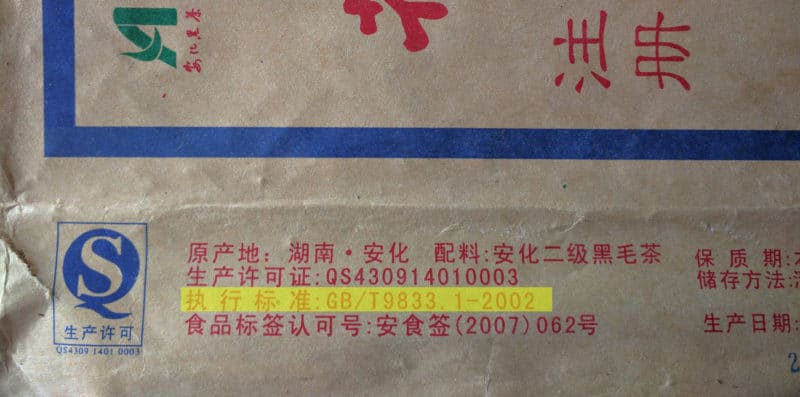 For example, on the above wrapper from Hua Zhuan heicha, you'll notice a slew of Chinese characters and numbers, you'll also notice the GB/T refers to Guobiao Recommended Standard 9833.1-2002. A quick google search leads to many sites where you can actually purchase a PDF copy of the standard itself (in Chinese).
The GB standard document, among other things, describes the processing methods that must be used to make this tea brick and the percentage of stems that are acceptable when sourcing the raw material. You'll also notice the blue QS logo in the bottom right. This is a Chinese Quality Safety mark. QS marks are managed by managed the General Administration of Quality Supervision, Inspection and Quarantine (AQSIQ). A quick Google Search of the QS number for this product, QS430914010003 reveals information about the product and it's manufacture and also that this specific QS number was issued by Hunan Provincial Quality and Technical Supervision. Unfortunately, little is done to certify GB or QS standards overseas.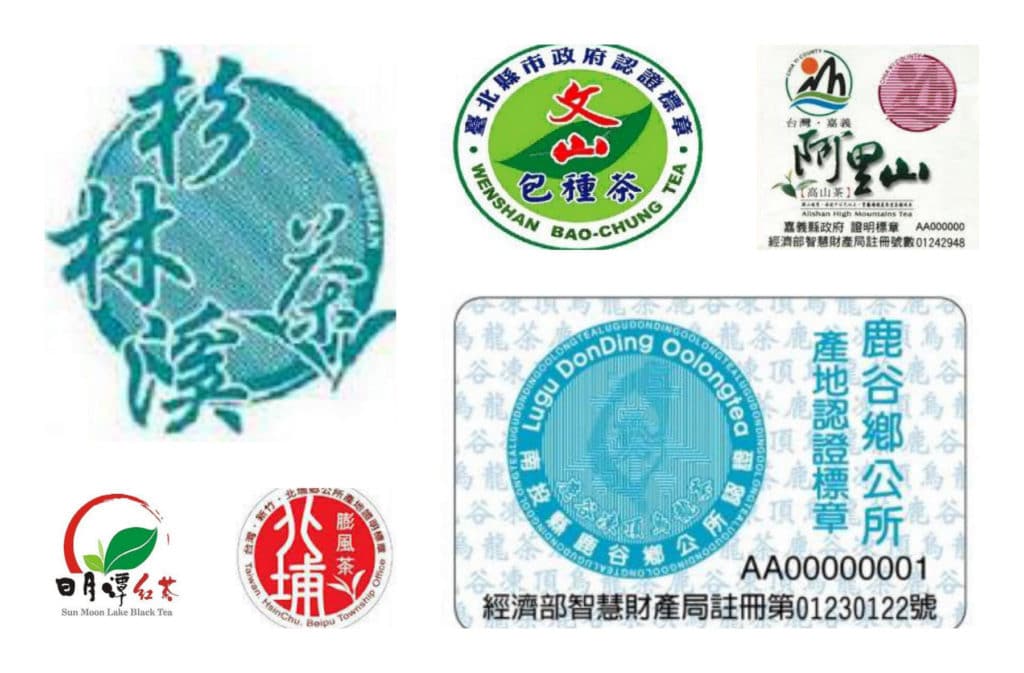 Taiwan
A number of logo marks exist for famous Taiwan tea growing regions, but little is known about them in the West. I haven't seen any of these logos used on packaging even in Taiwan and I haven't found corresponding United States Trademarks for any of them.
Challenges
Most geographical indications and appellations are only valid if packed and labeled in the origin country and sold in that same packaging. This is why special wine or cheese labels work, they are labeled at origin and typically sold in that same form. Tea however is often shipped in bulk to merchants stateside where they are repackaged in the merchant's branded packaging. At this point, it is up to our trust in the merchant to clearly and accurately label the provenance of their products. Event worse, many merchants will alter the names of teas, especially Chinese teas to make them more accessible to their customers. Or worse yet, they will dumb down a tea name, only giving us a portion of it, such as "Sri Lanka Black Tea" casting provenance aside.